Adsdean Milton of Wylanbriar – Milton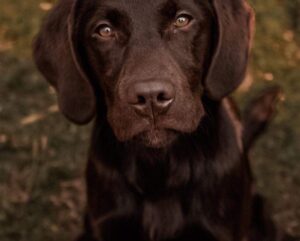 BVA Hips   6:4,         Elbows    0:0,         BVA/KC Eyes  All Awaited
CNM DNA: Clear,  PRA DNA:  Clear    EIC DNA: Clear   SD2 DNA:  Clear
(Chantillyoak Suede at Wylanbriar  x Queen Guinevere of Dunsreyth)
DOB: 08.09.2021   –  Chocolate (Not carrying Yellow)

Registration number:   AY10289201

'Milton' – Our long awaited 'Suedey' son. A beautifully made boy of substantial type. Milton will, hopefully, follow in his father's footsteps, becoming a very useful member of the Wylanbriar 'team boys' both out picking up, beating, possibly competing and certainly being shown very occasionally. If all goes well he will also join the Wylanbriar stud team in late 2022.
He has a gorgeous, loving, nature and we look forward to watching him develop into a big handsome, clever boy!
To view Milton's Upcoming Litters click *here*!
 Milton's photo gallery, to view the full sized photos please click on the thumbnails:
Chantillyoak Suede at Wylanbriar
Chocladorais Gentleman Joe
Tableland Max
Lijonel Lois Lane
Wylanbriar Don't Look Back for Chantillyoak
FTW Wylanbriar Wierd Fish
Cavandia Out of Africa to Wylanbriar
Queen Guinevere of Dunreyth
Wylanbriar Maybe Tomorrow
Grangemead Pedro
Cavandia Out of Africa to Wylanbriar
Queen Sophia of Dunreyth
Pawcrest Amie'able Star for Wylanbriar
Queen Relisent of Dunreyth