Ffynongain Bandito of Wylanbriar – Bandit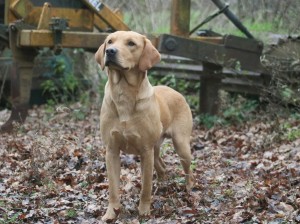 Hips 7:4, Elbows 0:0,  BVA/KC Eyes current Clear Nov 2019
CNM DNA: Clear by Parentage.  PRA DNA:  Clear by Parentage.    EIC DNA: Clear.   SD2 DNA:  Clear.
(OpenFTW Ffynongain Buzzard of Wauniago   x   Westmacott Gabriella of Ffynongain)
DOB: 12.09.2018   –   Yellow (Carrying Red)

KC Registration Number:     AV04081701

'Bandit' –  My confident, gorgeous young man. Fast, focused and a dream to train. Bandit is training up beautifully to test, trial and pick up. He is a compact dog, almost certainly carrying the gene varient to produce 'Red' as his Sire is a red dog. Bandit has a huge character, very strong minded, very sociable and affectionate.
Bandit is beautifully bred from field trial lines. He is now at approved stud.
To view Bandit's Upcoming Litters click *here*!
 Bandit's photo gallery, to view the full sized photos please click on the thumbnails:
OFTW Ffynongain Buzzard of Wauniago
OFTW Cynhinfa Jarmen of Wauniago

FT CH Mediterian Blue

Castlewood Razorbill of Wauniago
Ffynongain Xena
FTW Caulliechat rebel of Garngoch
Maldrake Belle of Ffynongain
Westmacott Gabriella of Ffynongain
FTW Greenbriar Siege

FT Ch Waterford Fergus

FTW Bynbrigisidore at Greenbriar
FTW Ffynongain Lizzy of Westmacott
FTW Caulliechat Rebel of Garngoch
Fffynongain Gold