Cottesmore Leap of Wylanbriar – Chaucer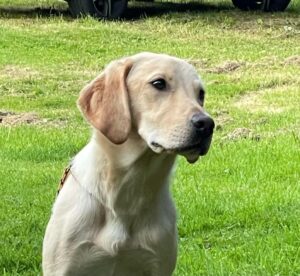 BVA:   Hips:  5:2,    Elbows:   0:0,   BVA Eye Certificate:  Clear October 2022
CNM DNA: Clear     PRA DNA:  Clear    EIC DNA: Clear     SD2 DNA:  Clear     HNPK DNA:   Clear
(Ir Ft Ch Drumgoose Fabragas of Aithness  x  Little Black Puffin)
DOB: 02.09.2021   –  Yellow (Not carrying chocolate)

Registration number:    AY9901701

'Chaucer' – Our charming new addition to the team. A son of our wonderful 'Struan' (Ir FT Ch Drumgoose Fabragas of Aithness), and a grandson of our legendary 'Ray' (FTW Never Disarray at Wylanbriar). Chaucer is bred from fabulous, and varied, field trial lines, with a tiny smattering of showblood further back. He is a buzzy, outgoing character and already, like his Sire, loves diving into the toughest of cover!!
I can't wait to bring him forward and hopefully compete and add him to the picking up team from 2023. If all goes well he will also join the Wylanbriar stud team in due course.
Physically, Chaucer will be a strong, up to size dog, he already has a huge personality and is keen, biddable and has a strong will to please.
To view Chaucer's Upcoming Litters click *here*!
 Chaucer's photo gallery, to view the full sized photos please click on the thumbnails:
Ir Ft CH Drumgoose Fabragas of Aithness

FT Ch Kayteens Cruise

FT Ch Mediterian Blue

FT Ch Pryanduke Fenmarc Quest

Int FT Ch The Newcam Boss

Ir FT Ch Marranscar Blackcap

Smirnoff Teal
Little Black Puffin

FTW

Never Disarray at Wylanbriar

FTW

Wylanbriar Wierd Fish
Bramble Ramble Pippa
Gospelash Samantha
 

FTW

Leaworthy Samuel of Gospelash
Gospelash Apple