Chantillyoak Suede at Wylanbriar   –   Suede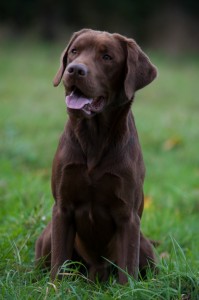 Photo at 2 years old
 Hips:  4:4, Elbows:   0:0,   BVA/KC Eye test:  Clear Nov 2017
Optigen DNA:  Clear by Parentage    EIC DNA:  Clear    CNM DNA:   Clear
(Chocladorais Gentleman Joe x Wylanbriar Don't look back for Chantillyoak)
DOB:  29/10/2012   –  Chocolate carrying yellow
KC Registration Number:  AP04033501
'Suede' –  A lovely lad we are proud to introduce to the kennel. Bred from a bitch who is by our Fish, to a lovely showbred black who goes back to our old Bradawgonn Brigadier at Wylanbriar (Dylan). Suede is predominantly showbred but with a smart smattering of field trial lines in the third generation backwards.
Suedey is a gentle, uncomplicated boy who is very trainable and enjoyed showing at Crufts in 2015. He will be out shooting winter season 2015/16 and make a return trip to crufts in 2016

Suedey has lots of lovely litters out there and he is passing on his lovely lean, working *type* body frame and superb gentle nature to his offspring.
Suede's photo gallery, to view the full sized photos please click on the thumbnails:
Chocladorais Gentleman Joe
Tableland Max
Tamworth Muffin
Flowerpot lady
Lijonel Lois Lane
Chilerton Chiefton from Lijonel
Lijonel Snowfire
Wylanbriar Don't Look Back for Chantillyoak
FTW Wylanbriar Wierd Fish
FT CH Dipplelodge Raven of Riversway
Pawcrest Jades Dream for Wylanbriar (WGC, SGWC)
Cavandia Out of Africa to Wylanbriar (SGWC)
Pawcrest Amie'able Star for Wylanbriar (SGWC)
Cavandia Nakula