Tom is now retired from stud and lives his wonderful days on a great friends sofa
+++++++++
Wylanbriar Maybe Tomorrow –  (Tom)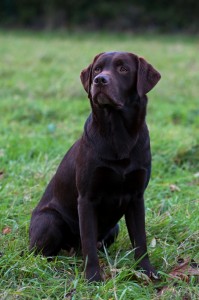 Hips: 6:3 (Total 9),   Elbows: 0:0,   BVA/KC Eyes Clear – 11/2015
CNM DNA: Clear by Parentage,    Optigen DNA: Clear Tested,   EIC DNA: Clear
(Grangemead Pedro x Cavandia Out of Africa to Wylanbriar) – DOB: 25.03.09
(1/3 Field Trial  x  2/3 Show bred)
Chocolate – DNA tested not to carry Yellow.
'Tom' –  A driven, fast, loveable, sweet natured chocolate dog, who lives life to the full and is full of personality! A pairing of Shiney, who although showbred, is a true hunting machine and holds her SGWC, and 'Pedro' one of the very very few chocolates in the country with trial lines behind him, Field Trial awards and excellent conformation as an added bonus!
Tom is proving to be growing into a confident handsome boy with a sweet temperament. There are elements of his Sires working lines in his conformation, however he is leaning moderately towards his showbred side, physically with his good bone, excellent angulation and generally pleasing conformation.
Tom is a very important part of my picking up team, spilling over with all breed traits, enthusiasm, edurance, good nose, soft mouth and genuine love of working and training.
Tom is now well established in his stud career and is a keen, and proven, sire and a knockout with the ladies!!
Tom was 2nd in the BASC gamekeeper ring at Crufts in the team competition in both 2011 and 2013. He adores his days in the spotlight!!
To view Tom's upcoming litters Click *here!*
Tom's photo gallery, to view the full sized photos please click on the thumbnails:
Grangemead Pedro FTW
Pintail Hector of Styleside FTW
Grangemead Woodcock FTW
Pepin Rose
Russet Rosie of Grangemead FTW
Barnham Elmo FTW
Mistress Milly
Cavandia out of Africa to Wylanbriar (SGWC)
Pawcrest Amie'able Star for Wylanbriar (SGWC)
Brightwalton Born to Star
Pawcrest Bon Amie
Cavandia Nakula
Thurbajens Winter Joker
Roytan Yttrium