Malika's Promise to Wylanbriar – (Mallie)
 Hips 3:6,  Eyes BVA/KC Clear 2007,
CNM DNA tested: Carrier,      Optigen DNA tested: Clear
(Bradawgonn Brigadier at Wylanbriar x Wylanbriar Bootie Call) – DOB: 03.08.03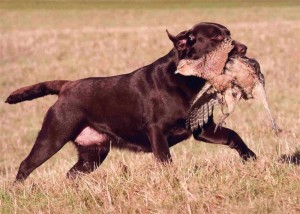 Chocolate
'Mallie' – Indesputably one of the better known chocolate bitches out there competing and working. Mallie has numerous Working test awards, including a Novice Test 1st, and an Intermediate test 1st. She also has multiple Open test awards. Mallie ran for several seasons in Novice field trials, many times making the end, but always a shade out of the awards. Her greatest love is picking up and is a steady, hugely keen and very reliable companion. She is now retired from competition but loves to come out on our small shoot on quieter days.

Mallie won a Pre Beginner Obedience competition a couple of years ago and has minor open show awards, so a real, true, allrounder!
Mallie had three beautiful litters for us, and is now spayed. Her fiesty, outgoing, trainable character has and does make her a joy to live with and work! Her love of life is a tribute to a similar trait in her wonderful Sire, our Dylan (Bradawgonn brigadier at Wylanbriar).
Mallie's photo gallery, to view the full sized photos please click on the thumbnails:
Bradawgonn Brigadier at Wylanbriar  –  SGWC
Marquis of Llanstephen

SH CH Charway Blackthorn of Follytower

Lancroft Sea Breeze
Roytan Touch and Go
Donalbain Diomedes
Roytan Hit and Miss
Wylanbriar Bootie Call
Thurbajens Winter Joker
Naiken Eduardo Esquire
Nonairbra Me again at Thurbajen
Harrop Penny Black from Ludska
Stormley Craftsman at Ludska
Jamberet Jequity