FTW Bedgebrook Shamrock at Wylanbriar – (Otter)
DOB: 3rd March 2011 – Yellow Bitch
KC Stud Book Number:   3398CX
FT CH Eastdale Harry x Bedgebrook Mole
Hips 3:6, Elbows 0:0, BVA Eyes Cert:  Nov 2015
Optigen DNA:  Clear by Parentage.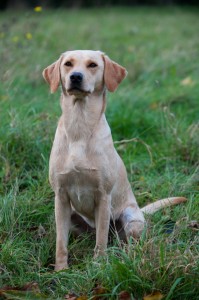 Photo at 3 years old.
Otter – our beautiful little pocket rocket! Another gorgeous Bedgebrook, who is wonderfully easy to train, driven and a huge character in a little compact body. We have high hopes for Otter, and so far, she is showing great promise.
***  Otter wins her FIRST Novice Field (with 'Guns Choice' too!) at 19 months of age. Otter, really, our bar is high but THAT is amazing!!!  *** 13th October 2012
Otter has run several times in All Aged and Open trials with some awards and crediable results, making several day 2's in two day opens. We look forward to the 2015/16 trial season with hope and ambition.
 Otter's photo gallery, to view the full sized photos please click on the thumbnails:
FT CH Eastdale Harry

FT CH Greenbriar Viper of Drakeshead

FT Ch Lafayette Tolley

FTW Greenbriar Solitare
FTW Daughting Dulcie of Eastdale
Lancaster Bomber
Eastdale Elsa
Bedgebrook Mole

FT CH Bedgebrook Excalibur

FT CH Hamford Zealot of Highseas

Muddymile Dunlin of Bedgebrook
Altiquin Gazelle of Bedgebrook

FT CH & IR FT CH Myreton Diablo of Glenloch

Altiquin Breeze