Wylanbriar Assistance Dogs
Our association with Assistance dogs programmes started back at the end of 2006. We became aware of the Dogs for the Disabled programme and the Charity 'Canine Partners for Independence'. The freedom and extra quality of life these assistance dogs can give a disabled partner cannot be underestimated, and is a pleasure and a privilage to have our dogs, and dogs we have had a hand in producing, in these programmes.
STOP PRESS!  JULY 2010
Canine Partners for Independence
Six Deeds children from the same litter were accepted, and:
FOUR have passed their ADVANCED assessment and TWO are training well and awaiting their assessment result. What a wonderful picture and what a fantastic mating!
Huge congratulations to Ruth Narracott who bred these amazing youngsters.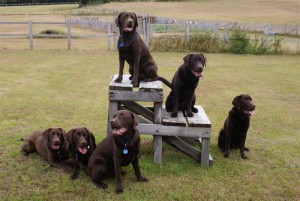 Wylanbriar bred dogs at DftD
In 2007 'Ida' (Wylanbriar I'll be Seeing You) who is by Charway Water Reed out of our Jade, went into the DftD training programme.
She is such a sweet and pretty girl that she undertook publicity photos shoots for the charity including an article in Our Dogs magazine and also a shoot for The Co-Op.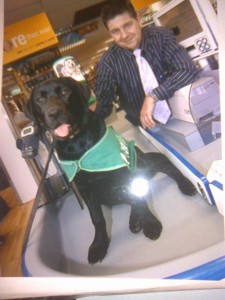 Ida did extremely well in her training, but, at a year the charity decided she would be able to become a DftD brood bitch, after her healthscores were undertaken successfully.  Ida recently produced her first litter to a stud dog from the Guide Dogs breeding programme. Ida lives with a DftD brood bitch holder in a family home. All the puppies have made the inital training programme of which we are very proud!
Ida: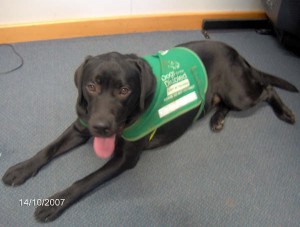 In 2009 Dogs for the Disabled have taken two puppies (one dog and one bitch – both chocolate) from 'Shiney' from our litter to Grangemead Pedro, and three puppies (One Bitch and Two Dogs – all chocolate) from 'Mae' from our litter to Deeds, into the DftD training programme.
Shiney's Puppies are:
Wylanbriar Just Looking & Wylanbriar Mister Writer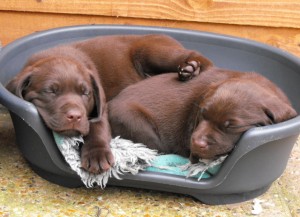 July 2010:  We were recently updated to inform us by DFTD that both puppies have completed and passed initial training, advanced training and one was continuing that route and the other going to work specifically with autistic children and so will be undertaking further training in this area.
Mae's Puppies are:
Wylanbriar Lost in Space, Wylanbriar Here We Go
& Wylanbriar Travelling Thro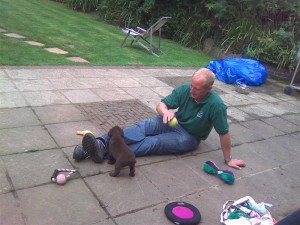 (Puppies being assessed by Rob Harris – Puppy Co-ordinator at DftD)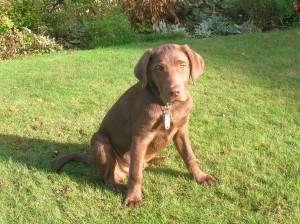 Ulan – In the early stages of Puppy Walking – doing beautifully at 3 months old!
Ulan and Unis both from Mae's litter (so our Brogan's litter brother and sister) at 4 months old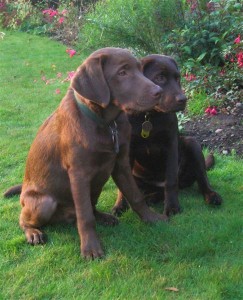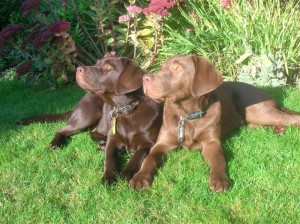 They are currently all with puppy walkers in the first year of training and we await news on their progress as time goes on.
*************************
Deeds, our lovely chocolate boy, seems especially suited to producing puppies with the right qualities to become assistance dogs. We heard of his first puppy being donated to Canine Partners in late 2006 and many of his offspring have been donated or sourced by both the charities since.
Deeds Sires the FIRST qualified
Dual Canine Partner/Hearing Dog for the Deaf !!
With EXCEPTIONAL pride we can now announce that Deeds is the Sire of a beautiful chocolate bitch, Geri, bred by Elizabeth Parker, who is the FIRST qualified Dual Canine Partner/Hearing Dog for the Deaf !! Geri undertook a full Canine Partners training programme, but also then went to hearing Dogs for the Deaf and completed their intensive training. She 'passed out' and went to live with her new partner, Glenn Tallet, who has Cerebral Palsy and is Deaf, very recently. We cannot SAY how proud we are of this achievement by little 'Geri'.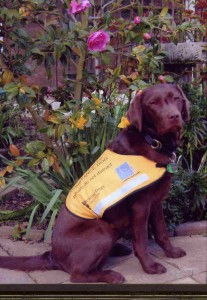 Other Deeds youngsters have qualified through both training systems or are still in training, and he has sired litters for both charities. One such litter, the Dogs for the Disabled's 'H' litter, was to a beautiful Abbeystead bitch called Willow. Of ten puppies, EIGHT of them qualified through the ranks and are now assistance dogs.
Some of the 'H' Litter by Deeds at DftD:
Hatti   &  Heidi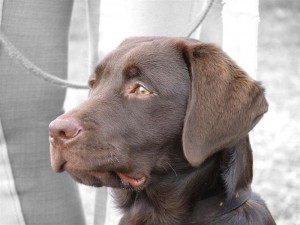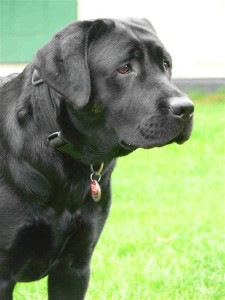 Henna & Herbie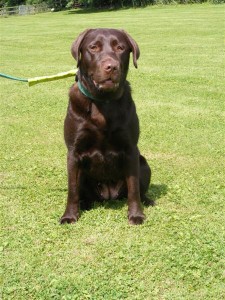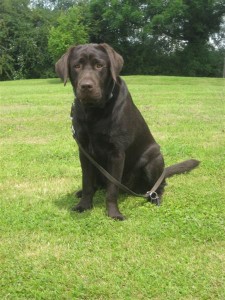 Now working with Disabled partners…. alongside four other of their littermates.
'Kina' – Newly qualified in 2008 – DftD
'George' – Newly qualified in 2009 – Canine Partners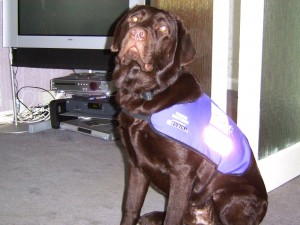 By Deeds …
Also by Deeds, Rufus and Abbey – now qualified at DftD….: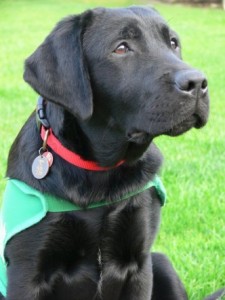 Qualified and making a real difference….
********************************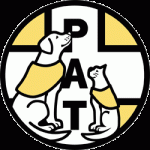 'Pets as Therapy'
Also…. newly qualified as  PAT dog
Deed's daughter – 'Happy'
Visiting and raising a smile, from those less fortunate, everywhere she goes!