Laggengill Kodak of Wylanbriar – Cody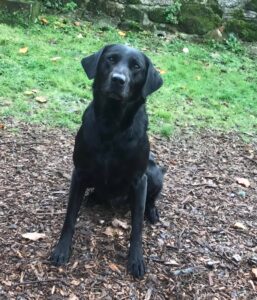 Hips 4:4, Elbows 0:0, BVA/KC Eyes current Clear May 2023
CNM DNA: Clear, PRA DNA: Clear EIC DNA: Clear SD2 DNA: Clear
(FT Ch and Int FT Ch Beileys Aguzannis of Fendawood x FT Ch Laggengill Delta)
DOB: 28.03.2018 – Black carrying Yellow

Stud book number: AV01497802

'Cody' – Joining us here at Wylanbriar from a top kennel in Scotland, Cody is a beautifully trained, perfect gentleman. He is sweet and kind, but hugely driven and easy to train. He has joined us out picking up and beating on a number of occasions now, and has cemented himself both in our hearts, on the 'team' both Picking up and 'Boys at Stud!'.
Cody is beautifully bred from all field trial lines. His sire WON the 2016 |IGL Championships and both his parents are Field Trial Champions. He is a lighter framed dog than most of ours, of moderate height and with a beautiful head and with very expressive features. He is a proven sire of multiple litters and we hope he will run in working tests with us in summer 2023.
To view Cody's Upcoming Litters click *here*!
Cody's photo gallery, to view the full sized photos please click on the thumbnails:
Int and UK FT Ch Beiley's Aguzannis Of Fendawood

Int FT CH Ragweed's Travel

FT Ch Craighorn Bracken

Ragweed's Joplin

FT Ch Fernshot Olivia

FT Ch Fernshot Comet

FTW Edenbrook Bermuda Princess of Fernshot

FT Ch Laggengill Delta

FT Ch Ellijas Danny

FT Ch Kenmillto Remus

FTW Hillus Widgeon

FTW Jocksburn Suzie of Laggengill

FT Ch Copperbirch Paddy of Leadburn

FTW Glassgreen Spey