Ir FT CH Drumgoose Fabragas of Aithness – Struan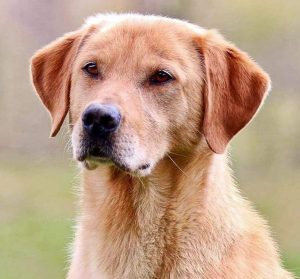 Hips 4:7   Elbows 0:0,  BVA/KC Eyes current Clear October 2022
CNM DNA: Clear,    PRA DNA:  Clear    SD2 DNA:  Clear
(FT Ch Kayteens Cruise  x  Int FT Ch The Newcam Boss)
DOB: 28.04.2014   –    Yellow not Carrying chocolate

Stud book number:   2733DB

'Struan' – A powerhouse of a dog, with huge drive. Is bold, confident and beautifully trained by his previous owner, Andrew Rooney, making him into a Ir Ft CH and winning numerous tests and trials in his career. He's run for Ireland on the national team.
Struan is beautifully bred from very successful field trial lines. He has a wonderfully happy, affectionate personality, and loves life and everything it involves!  I feel honored to have him become a much loved team member here at Wylanbriar. I can't wait to compete with him, tests and trials, in due course. Struan is a proven sire of lovely progeny.
To view Struan's Upcoming Litters click *here*!
Struan's photo gallery, to view the full sized photos please click on the thumbnails:
FT CH Kayteens Cruise

FT CH Mediterian Blue

FT CH Endacott Shelf

FTW Drakeshead Evie

FT CH Pryanduke Fenmarc Quest

Seasway Tramp
Merry Magnolia

Int FT CH The Newcam Boss

FT CH Marranscar Blackcap

FT CH Rod Wallace of Leadburn

Weathers Ivy of Marranscar
Smirnoff Teal

FT CH Copperbirch Zeus of Glenanne

Glenanne Fergie