FTW –  Never Disarray at Wylanbriar – Ray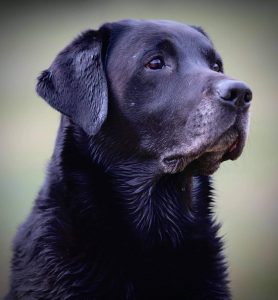 Hips:  7:3,  Elbows  0:0,  BVA/KC Eye cert: Clear October 2021.
EIC DNA:  Clear.      Optigen DNA: Clear      CNM DNA: Clear      SD2 DNA:  Clear
 (FTW Wylanbriar Wierd Fish x Bramble Ramble Pippa)
DOB: 21.03.12   –   Black  –  DNA tested to carry yellow
Stud book Number:  3434CZ
 Our lovely 'Ray'. A son of our Fish (who is a field trial winner and open test multiple award winner), to a lovely working bred bitch who immediately took our eye for her smart conformation and lovely temperament. He is a handsome, well boned, nicely made dog with drive to learn and speed and power. He is proving to be very trainable and is biddable and smart.
Ray made us very proud by winning the WWGS Novice field trial in September 2015 – a great start to our 2015/16 trial season! So now he is a Field Trial Winner – woo!  🙂
Ray ran in a couple of Novice field trials winter 2013/14, and started his test career by getting a COM and a 2nd in his first two Novice tests. He started his 2014/15 field trial career well by gaining 'Guns choice' and a 4th, respectively at two different novice trials in 2 days. Ray won further Novice and All Aged awards in season 2014/15 – and we start season 2015/16 with a very positive outlook 🙂
Ray is now a proven sire with many lovely litters born.
'Ray' –   Ray's photo gallery, to view the full sized photos please click on the thumbnails:
.
Wylanbriar Wierd Fish (FTW)
FT CH Dipplelodge Raven of Riversway
FT CH Endacott Soames of Riversway
Dolbrenin Sian
Pawcrest Jades Dream to Wylanbriar  – GWC, SGWC
Charway Ballycobnut
Bonnie Bedelia at Pawcrest
Bramble Ramble Pippa
Bedgebrook Elk Mountain of Mitheridge
FT CH Hamford Zealot of Highsea's
Muddymile Dunlin of Bedgebrook
Dawn Awakening
Hobhearn Otta
Kenmillto Hello Happiness