Isleofman Gorse of Wylanbriar – Callum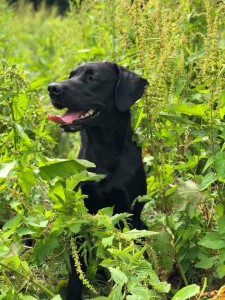 Hips 5:3, Elbows 0:0,  BVA/KC Eyes current Clear Nov 2017
CNM DNA: Clear,  Optigen DNA:  Clear by Parentage    EIC DNA: Clear   SD2 DNA:  Clear
(OFTW Westmacott Gaelic  x  Isleofman Dasha)
DOB: 28.03.2017   –  Black carrying Yellow

KC Registration Number:   AU01579507

'Callum' – My adorable, 'Mr Wiggle'! Callum is the kindest, most trainable of young dogs, and I have very high hopes for him. He has proved a very useful member of the picking up team on this his first winter season, and he will shortly be ready to Novice trial.
Callum is beautifully bred from field trial lines. He is a compact dog who is very athletic and bold. He is a ahard hunting boy but is very sensible and has a huge desire to please. He is now siring beautiful typey puppies.
To view Callum's Upcoming Litters click *here*!
 Callum's photo gallery, to view the full sized photos please click on the thumbnails:
OFTW Westmacott Gaelic
Greenbriar Siege
FT CH Waterford Fergus
Bynbrig Isidore at Greenbriar
Ffynongain Lizzy of Westmacott
Calliechat Rebel of Garngoch
Ffynongain Gold
Isleofman Dasha
Drakeshead Vince
FT Ch Dipplelodge Raven of Riversway
FT Ch Levenghyl Silvercloud of Drakeshead
FT CH Abbotsleigh Emu
FT Ch Mansengreen Diesel of Birdsgreen
Abbotsleigh Awol