FTW Wylanbriar Wierd Fish  –  (Fish)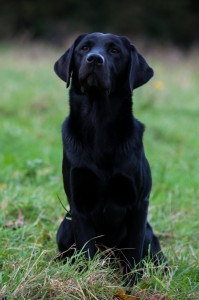 Hips 5:6,  Elbows 0:0,  Eyes BVA/KC Current Clear Nov 2015,  CNM DNA tested: Clear,
Optigen DNA:  Clear by Parentage   EIC DNA:  Carrier
(FT CH Dipplelodge Raven of Riversway x Pawcrest Jades Dream for Wylanbriar) – DOB: 23.09.08
Stud Book Number:  4729CV
Dominant Black (DNA Tested)
6th October 2011:  Fish & Allan win the UGS Kent & E. Sx Novice Stake at Ulcombe, Kent. Fish is now an Open trial dog!
29th/30th October 2012 – Fish wins 3rd at the East Anglian LRC 2 day qualifying Open field trial. A huge thrill for us!
Fish also currently has a Guns Choice in Open trials and Open Working test awards.
'Fish' – A true dual purpose bred Dog. Pure Field trial to pure Show lines and with years of thought behind the pairing. He excels both in his zest and drive for life and his good construction. He is the calmest, kindest boy you could ever wish to meet yet turns on drive, style and power when the training bag comes out! Now a Field trial winner, a multiple working test award winner and a damned handsome lad, we are extremely proud of the boy we simply call 'Mr Fish'!
Stud fee on application. Fish is a proven sire. He is at stud to EIC Clear tested bitches.
**
 To view Fish's Upcoming Litters click *here*!
Fish's photo gallery, to view the full sized photos please click on the thumbnails:
FT CH Dipplelodge Raven of Riversway

FT CH Endacott Soames of Riversway

FT CH Glenbriar Solo

Endacott Spindle
Dolbrenin Sian

FT CH Pocklea Remus

Cadover Della
Pawcrest Jades Dream for Wylanbriar – GWC, SGWC
Charway Ballycobnut

CH Cambremer Tom Cobbley of Charway

Charway Ballylace
Bonnie Bedelia at Pawcrest

CH Carpenny Walpole

Carpenny Hand in Glove