Crufts 2010. This was on Sunday just gone. Now love it or hate it (and most people who attend regularly harbour a bit of both i'll wager…) Crufts is the one to go to. When I looked at the pinboard in the kitchen where we put prize cards up, there were only two SHOW prize cards since Crufts 2009 and so I realised that commitment to the showing 'cause' needs upping a little if we are to keep the old 'Dual Purpose' banner flying   😉
Crufts….  5am leave the drive. 10.30pm return onto the drive. Crufts you can't beat it! So we arrive nicely, calmly, and relatively on time, to my amazement. I'm usually doing 95 in the mandatory 50mph segment of the M42 grabbing at leads and throwing dog passes and suchlike around the car at least an hour later than is comfortable to arrive! Not so this year! It was all organised, calm, serenity. I felt SURE we must have left the dogs at home or something to be so on time. But apparently not.
We strolled into the NEC and even had time for a little shopping before it suddenly all turned manic, with the Gamekeeper Dog classes and the bitch classes starting at almost the same damn time! Thats FINE…. unless you have two handlers… two bitches…. AND one dog! So we saw our good friend Mark Toublic wandering around, dogless, and looking FAR too unhassled and serene  so we begged him to show Deeds, which he did to great effect! Thanks Mark! Meantime Allan was showing Shiney and I was showing Jade in the Gamekeepers bitch ring. As were 25 or so others…. and wow has the Gamekeeper ring taken OFF! The standard was amazing! The Gamekeeper ring could prompt me to write a whole 'Dog Blog Xtra' (watch this space) but in general i think everyone was justified in being there and competition was HOT! No pressure but Jade won this class last year, but she was 12 months, a small litter and a Csection and a spay down this year…. and lightening rarely strikes twice! Judge, Joy Venturi Rose reduced the class by 8 or 10 in the first cut, but kept in Jade, Shiney and also a Deeds daughter, Happy, at her first time of being shown. Then a second cut took Shiney and Happy out but left me and Jade to battle. We were pleased to be third in such strong competition beaten by a Champion bitch and another I've admired from the ringside for quite some time and I know works her backside off all season. So I unclamped my fingers from the trophy, smiled sweetly and handed it to CH Warringah Bunya, a beautiful yellow bitch with working test awards and her GWC too!
Jadey in the Gamekeeper ring with me….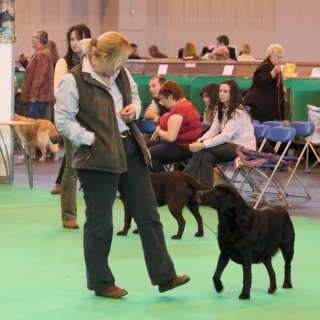 So on we go and Deeds is shown by Lesley, his co owner, in Mid Limit but is sadly not considered. Not a problem, I never thought he would be, as the competition was probably mostly of a bigger, more substantial type than the boy. Then I showed him in Special Working, again, to not get a place but amongst several international Champions and UK Champions, we were happy enough to show we had earnt our way into the class. Infact, if they removed the 'SGWC' stipulation and brought back the 'working test awards' stipulation that Special Working always DID have, then Deeds would still be in there, and the shape of dog in the class would change considerably. But thats a whole ANOTHER story  😉 The fact that Jake – Wylanbriar As Time Goes By at Millerdan, not only made the cut for this class, but was 3rd overall was a source of huge huge pride and a credit to his mum's (Rachel Williams) hard work both showing and working him! Granny cried… a little… I'm not ashamed to admit it!
Now about 30 mins before Special Working BITCH where we had Jade and Shiney in, the cry goes up….. 'where is Allan?'. He'd been spotted disappearing into the Hall Five Bar about three hours previously, but noone could reliably say they had seen him elsewhere since. there were rumours…. someone had seen him at a breed club stand. Someone else had seen him heading to the loos… but nothing concrete. So when he rolled up five minutes before the class looking slightly worse for wear I delegated Shiney to someone far superior and more reliable in the handling stakes – Auntie Rachel. Jade was binned but Shiney made the cut… and then by the huge handling skills of Rachel, she was placed fourth in a hugely strong class! YES she is a lovely bitch but usually she HATES showing and stands looking dismal! Rachel fired her up throughout and she looked lovely! Rach – you are a handling legend! Thank you! Shiney got her just reward.
So Crufts draws to a close for another year….. only it doesn't because sadly after several undisclosed amount of pints and a fair bit of Malt Whiskey, Al treats Crufts as the social occasion it prides itself on being, but then has to walk about three miles as the crow flies to the car in the West Car Park… happy days….. if you are not half cut   😉   😉  The M40, usually the best motorway in the world, was being a Sunday night nightmare for no apparent reason, and so Al slept peacefully from about Oxford…. and I dragged us home…. and I thought hard over next year on the way. Goddammit…. wouldn't a dog in the field trial class be great?!! Fish??? Bondy??? The future lays with you guys!!!!!!!