Monday 24th May 2010
The first time I went to Graham Home for training, maybe 6 or 7 months ago, I think some of the things he SAID were as inspired as the actual training methods… and so, driving home round the M25, listening (I regret to freely admit) to Radio 4, 'Thought for the Day', it was truly meaningful when the catchline……:
'Noone is ever good at something by accident'
……was driven home. It clearly matched Grahams view, that short and sweet, hard work, and basically what you put in, you get out, brought dogs to being good at this wonderful game we play.  I immediately put that phrase as my catchline that comes up when I turn my mobile phone on as a 'greeting'. I liked it. Very much.
Now I don't turn my mobile phone OFF very often (usually only when it gets soaking wet when I text away, merrily, in the pouring rain whilst walking the dogs, then wonder why its making funny noises, gurggling and the screen has some wiggly lines across it and little else….. 😉 But today my battery ran out and so I charged it up and switched it back on. And there it was…. that natty little greeting….. 'Noone is ever good at anything by accident….'
Made me think. Proper think! We went to a brilliant SEGS water training day on saturday and Bondy really was a super little bloke all morning. Sat up like a lamb, as mute as a monk, then when sent, really tried hard and thought about what I wanted. He held his own in a group of dogs twice his age, and made me extremely proud. He is certainly further 'forward' at a year of age than any dog i've ever owned or worked.  And it made me think…. I think, singluarly, without a doubt, that is for three reasons:
1) My three trainers, Gilly, Graham and Robert that I go to as regularly as possible, have given me the confidence, the push, the problem solving techniques and the bollockings (grin) to bring Bondy on quicker and more cleanly than any previous Wylanbriar. As regards Gilly and Robert by way of my previous dogs as WELL as the current ones, nagging me out of my bad habits (Mostly! Chuckle…) and Graham, more recently, but hugely influentially.
In the past, I would get so confused. I'd listen to everyone, go to lots of club classes, swap and change methods, and ideas and whilst that can be GOOD, it can also completely spin you out, even when you've been doing this for some years. So to settle on methods that work, and enjoy having the confidence on the occasion i go elsewhere, to not feel the need to 'change everything' for an evening, confusing the dog, and myself (!!) has paid dividends.
2) Bondy is royally trial bred and genuinely, learns and retains information at a pace no other dog i've owned has. He tends not to need 'carrying' although he is happy to 'ask' if hes not sure…. but he rarely freezes, and usually throws his coin in the air, picks 'heads' or 'tails' and at least does SOMETHING rather than 'nothing' if he doesn't quite understand what I want. the part and all showbred dogs tend to 'freeze', afraid to jump into the unknown for whatever reason (because, with me, soppy sod that I am, its almost certainly not out of fear of a rollocking!)
3) I've slogged my guts out training him. Honest! Not that its been any sort of a hardship! Whatever the weather, possibly at the detriment of the other dogs to a certain extent.
I've put *it* in, and so, one day, maybe….. possible…… hopefully, I'll get it back. IF, in time, Bondy is 'good' (and now my own personal benchmark for 'good' is pretty high I have to say), then it WON'T be by accident…..   😉   😉
No pressure there then my little yellow angel its just we now have to keep it up!   😉
——————————————–
Other news from the ranch!
Tommy and Madison up a tree…. K*I*S*S*I*N*G   😉   Tommy is now, officially a *MAN*. Twice!  (We are naming him 'Tommy Two Shags Twoshoes')   😉    He took a short time to decide he liked the job as a hobby, but once … away….. now you can't hold him back! Typically, as a teenager, he now thinks he invented sex. Nothing you could possibly tell him about it! Fish roaring with rage shut in the spare bedroom probably gave him the boot up the backside he needed….. and so, when she floated gracefully, (but very tartily) back his way, yesterday, he was, the preverbial, 'rat up a drainpipe'   😉 Clever bloke. Good lad. 😉   Bondy went for his hip and elbow xrays last week so watch this space   😉
Fish. Our Fish. Fishy-Wish. The Fish Meister…. or Fat Rat as I so affectionately seem to have pulled out the air (as he is very much neither 'fat' nor remotely 'ratlike!'). He went with dad to Mark and Jamie Bettisons in Wales last week by kind invitation of Lindsey Davis which was hugely kind. Boy did they have a GREAT day! Allan says it bonded them in a manly fashion! With his taxing work schedule Al has found it hard to gel with the boy, and also, importantly actually get out training. So, I'm sure he won't mind me saying, some of their test performances, although generally good, haven't been 'brilliant' in the way we would of liked them to be. So the light evenings are now presenting the best possible opportunity to get out training, and hopefully create them the partnership that will move them where Allan so hopes to be, Novice trialing in a respectable manner by the middle of the winter. We shall see!  I have twisted his arm and Fish and I have the SEGS Novice water test in a couple of weeks, and I am running him and Mallie in a Brace test in about a month so lots to look forward to.
Bondys first Puppy test looms ever closer too, and darling mallie, who admittedly has NOT had the work put in she ought to of had, is running this Sunday with me in the Bakadam Open. Always a friendly, hardworking club, and we are looking forward to it.
The Titchy Tadpoles are FANTASTIC! Fat little eating and playing machines and they are completely adoreable (if loud, smelly, bitey and all utter clones of one another so impossible to tell apart! Grin!) More on them as they turn into 'proper people' now they have turned 4 weeks……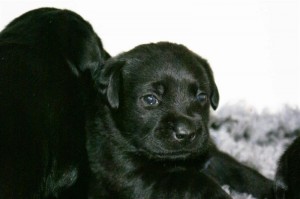 'Haaaaaaaa! ha ha ha!!!'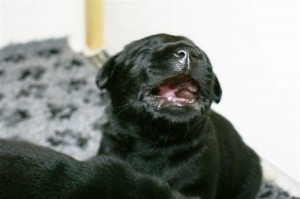 '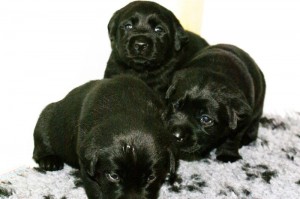 Altogether now please…….. 'Ahhhhhhhhhhhhhhhhhh………..'    😉